Almost everyone lifted weights in high school.
In college, a few drop off because classes get tough, or they get a job. Then we get careers and start businesses, and more folks ease out. Marriage, or divorce, take their toll, and children get most of whoever is left. Then there are those of us in middle age, training in a garage somewhere, Motörhead cranked to 11 and yelling at a barbell.
I've been an athlete my whole life. I played baseball and football in high school, boxed in the Army, played a little rugby, and fell into middle distance running. Then I hit my 30s and found the gym again.
Living in San Diego at the time, I joined a spot called Stern's Gym, and soon became one of the stronger guys. The next logical step was to get into powerlifting. I beat the bushes and heard about some powerlifters that trained out of Gold's, so I got hold of a fellow named Ricardo Morales, and he invited me to train with them. My first experience training with a crew was almost my last. It was a tight-knit bunch of folks, and after the session, they told me not to come back.
---
NEW: 9 Qualities of a Successful Gym Owner
---
I was bummed and thought about quitting the iron before really even starting.
The next day, I got a call from Ricardo, who later became a good friend and training partner. He said, "Listen man, that's bullshit what happened. You're cockstrong, but you need to learn how to train the right way." I was given a number and told that "The German" would square me away.
The phone hangs up.
I called The German, told him Ricardo sent me, and was promptly given an address and a time.
The phone hangs up.
The next day, I showed up to a storage unit wearing Chuck's and had one of those bodybuilding belts over my shoulder—the kind you buy at an unnamed supercenter for $20. I cruised around back where the AC/DC was blaring, and weights were clanging. A big, burly dude came over, introduced himself as Quinn Bremes, and with a firm handshake said, "at least you got the right shoes on." He pointed at the belt and said, "but you can throw that piece of shit away." I walked over to the dumpster and threw it in.
I had just met The German.
He taught me how to squat, bench, and deadlift. I learned about accessory work, that Equi-Block wasn't just for horses, and to never, under any circumstances, do rack pulls with a "good bar." He would also pass on the lessons he learned from his mentor, Leo Stern. That storage unit in the back of a dusty lot in Lemon Grove, CA, was where I paid my dues and became part of a crew. That familiar sense of fraternal belonging—being part of a team, a squad, a crew—was missing from my life since I'd stopped playing team sports and when I left the Army.
I also bought a real belt and some knee sleeves.
After a month, I did my first meet. Soon after, my wife and I learned we were going to have our first child.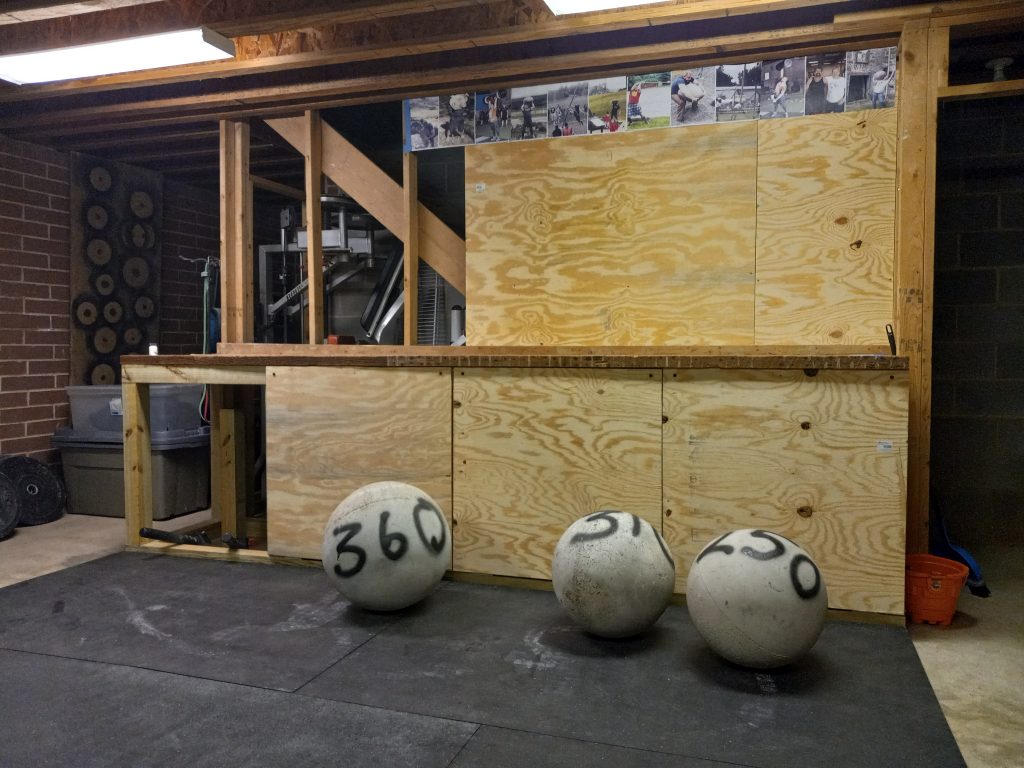 Seven and a half months into the pregnancy, I accepted an offer for a better-paying job in Baltimore, the money we needed to support our growing family. I left my wife with her aunt back in California, bid the crew farewell, and drove from San Diego to Baltimore to lay the groundwork for our move back to the East Coast.
In Maryland, I rented a room, started the new gig, found a place to train, made an offer on a house, and did a WNPF meet in the first three weeks after hitting town. During nights, I would wake up soaked in sweat and in a panic that I was going to miss the birth of my daughter. Another week passed, and I told my boss that I'd be flying back to be with my family and would be gone for at least a month. I fully expected to be let go. My boss' name was John Dittus, and he bought my ticket with his own money and said he'd see me when I got back.
I made it back to San Diego for my daughter's birth, and we closed on our house in the recovery room at the hospital the day after—a modest 2/2 rowhome in South Baltimore. I checked in on The German and Ricardo before heading back to Maryland. After a few weeks, I sent for my family to see our new home. In the meantime, I found a gym that had strongman implements in Columbia, MD (shout out to Colosseum). The state rep at the time for a strongman federation was there putting in work. We struck up a brief conversation, and he told me a few strength athletes get together on Saturdays to train events and that I should come check it out.
I did.
This crew wasn't as tight as The German's crew, but there were a lot of strongmen from MD, VA, PA, and DE that would come to train because the gym had all the implements. Over the weeks, several of us became fast friends, and it wasn't long before we formed our own crew, and I competed in my first show.
There it started, and for over four years, I competed in strongman as much as I could, starting out as a lightweight, and then moving into heavyweight. I was never a star, mainly hovered in the upper-middle of the pack, but I was one of the boys, took a podium finish every once in a while, and was legitimately competitive at a regional level.
In the middle of it, we had another daughter.
I was deep in my 30s now with a beautiful family that wasn't as much into spending weekends in a parking lot watching fat guys edge closer to a heart attack as I was. So, I started getting into Highland Games and dragged them out to Renaissance fairs to watch fat guys in kilts edge closer to a heart attack. At least they had knights and princesses at the fairs.
Time carried on, and we were "in the bubble." Being in the bubble means priorities shift, and family well-being takes precedence over personal satisfaction. It's the final hurdle that most folks stumble on, lose the fight, and get lost in a life of quiet desperation. Instead of drawing a line to separate my need for something bigger than myself, I drew a line around my family responsibilities, including training. My wife and daughters were understanding and supportive—the girls even started joining Dad in the gym.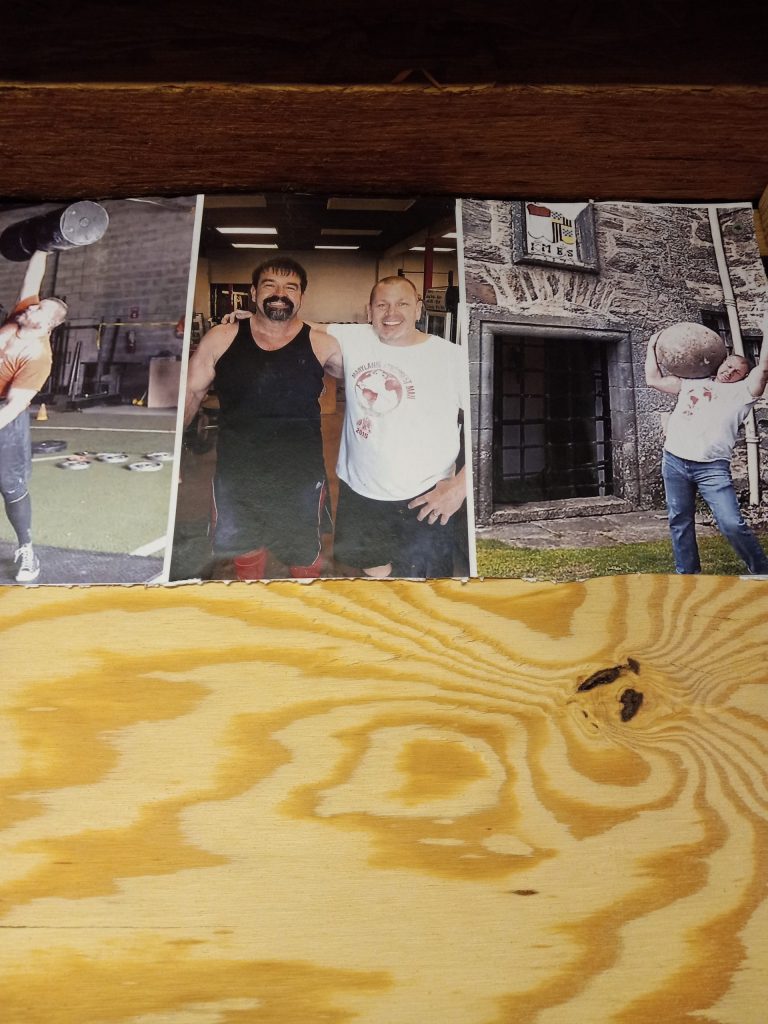 When I turned 40, we all went to Scotland, rented a campervan, and set out to lift as many manhood stones as we could find. My family watched me compete at the Abernethy Highland Games, and I even did well enough in a couple of events to earn a few pounds—enough to buy an event shirt. On the way home, we spent a week in Iceland, so I could lift the Husafel and Fishermen's stones.
A couple of years later, the pandemic hit.
Luckily, I had 350+ pounds of bumper plates, a yoke, a power bar, and some implements. I trained in the alley behind our rowhouse while gyms were shut down across the country. I also trained highland games at the park with some implements I'd picked up over the years. After a while, a few of the neighbors came over. Next thing you know, we had a crew.
Throughout the years, I had taken progressively higher salaried positions to pay for the progressively growing bills that came along with raising a family (daycare, private school, etc.). One day I lost my job and had to hustle to find another one. It was a tough time. A silver lining in the whole mess was that we got hold of a narrow garage space to train in. That kept us out of the elements for a while, and I slowly picked up more equipment, kept grinding, learned how to reprogram for my new-old body, and kept hitting PRs.
Life was weird but good.
The new job is going well, and my wife went back into the workforce, so there's some extra cash at the end of the month after paying bills. In 2021, a building behind the rowhouse came up for rent, so I had the luxury of snatching it up. If nothing else, it's a place to put all the shit I'd amassed over the years.
It's in the middle of downtown, where parking is almost non-existent, but there's a solid community. After the isolation of the pandemic, everyone is looking for something to be a part of, something tangible. Strength is pretty tangible.
Above the stone loading platform in the new gym, there's a picture of The German and me. I pass on the lessons he taught me, Leo's lessons, and the gym grows every day.
---

Originally from South Louisiana and Central Florida, I grew up a carpenter's son, where I built my base strength from years of manual labor. After lifting weights for football in high school, I enlisted in the Army, where I boxed, played a little rugby, and kept in shape through mid-distance running. I rediscovered weight training around thirty years old and learned the ropes with a crew in San Diego, CA. My strength background includes competing for four-plus years as a strongman across the mid-Atlantic region and as a Highland Games athlete since 2015. I'm currently a local gym owner who enjoys spending time with family and passing on a love of being strong to the South Baltimore community.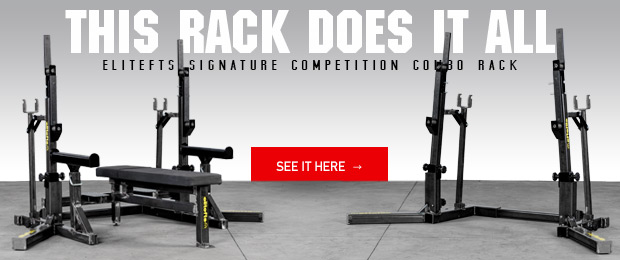 .